We had an exciting excursion in our new car last weekend. Along the way we learned some valuable lessons that I want to pass along to other expats looking to buy cars here.
Step 1: Purchase used Toyota Land Cruiser Prado from departing expat diplomat. If you're an expat in Tanzania, you're going to buy a Land Cruiser because that's what Expat Aid Workers like. You will need to purchase it in advance of any paperwork, because the sellers are leaving the country and need to settle up. You might be nervous about driving on the other side of the road, but don't worry about that.  You will have plenty of time to adjust because you won't be driving it anytime soon. The Tanzany bureaucracy will make sure that you have months and months before you actually register and title it. In our case, we bought the car in February but did not actually get the license plates until mid-September.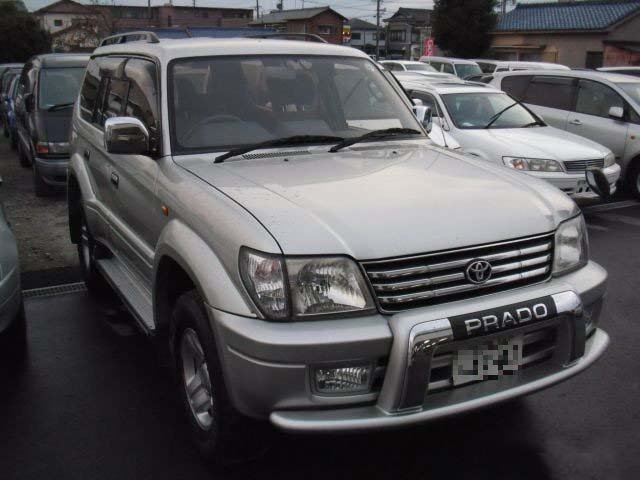 2001 Toyota Land Cruiser Prado, Photo by Alibaba.com
Step 2: Register Prado with TRA (Tanzania Revenue Authority). In Tanzany, the department of motor vehicle (DMV) functions handled by the tax collection agency. If that sounds to you like it combines all the fun of a traditional DMV with a tax audit, well, I have to agree.
In our case we decided to hire someone to help us with the paperwork. Although it seemed like a good idea, we did not "Have a Guy for That" and chose the wrong person. That set us back a month-and-a-half. It wasn't until Colleen started going down to the TRA with our agent that things started happening.
You will have to fill out new paperwork on the car, even though all the information already in the system on the car is the same except the owner's details. Notice that the previous car registration says "Diesel" for the fuel type. Since the car was imported from Japan, has no manuals or other information, no stickers on the gas tank, the previous owner didn't mention anything about the gas type, and most Prados in Tanzany are diesels, it seemed safe to assume that it's a diesel.
If you really want to double check, you could look at the fuel type information on the original import documentation. We didn't – hence this step-by-step guide.
Step 3: Figure out how to get the license plates onto the car. Strangely, license plates in Tanzany do not come with pre-drilled holes for mounting on the car. You have to make those yourself. We asked our friend Jaco for help since he is a total gear head with tools for pretty much everything. After some careful measuring and drilling, he had the plates mounted on the car.
Step 4: Get a babysitter so you can have a shopping excursion. This was our "date night" for the week and we were looking forward to actually being able to spend time in the store without our kids pestering us for stuff.
Step 5: Drive to Mlimani city, the only real mall in town. Make sure to leave plenty of time in case traffic is bad. Even though it is only 9 km. away from our house, we once spent two-and-a-half hours driving home. (And it would have taken even more time if I hadn't followed Colleen's advice to drive on the shoulder of the road for about a mile to bypass traffic.)
Step 6: When gas station attendant asks, tell her you need diesel. Repeat this when she asks you a second time to be sure if you really want diesel. Of course you want diesel. That's what the TRA documentation said, right?
Step 7: Pull out of gas station, see if the engine dies. If the car does not die, congratulations, you have a diesel. Proceed to step 10.
If it does die (as ours did) … well, then it's not a diesel.
Tip: It's best not to go too far from the gas station in the case it is not a diesel car. In our case, we went around the perimeter of the gas station before the car sputtered to a halt.
Step 8 (optional): If it's not a diesel, find a mechanic to fix it. Even though you are at a gas station, there probably won't be a garage associated with it. And even if there is a garage, it probably won't be open. We were at a Total station that has a Nissan dealership on the premise with a repair facility. But of course it was closed – after all it WAS 2:30pm on a Saturday afternoon. Fortunately for us, there was a small garage down the street and three friendly mechanics came down to fix the car for us.
Step 9 (optional): Drain the gas tank. The mechanics probably won't have any kind of pump or siphoning equipment. In our case, the three guys ended up detaching the gas tank from the bottom of the car and emptying the diesel into a series of buckets. They then rinsed out the tank with petrol, reattached the gas tank, replaced the spark plugs, and ran gas through the engine lines to clear it out. It took the three guys about two-and-a-half hours of work to complete the process. The damage: TSH 100,000 (US $63) for the diesel, TSH 60,000 (US $38) for new spark plugs, TSH 40,000 (US$25) for the labor. (And I probably could have negotiated the labor cost down a bit more if I tried.)
Tip: If you can find some jerry cans, you can take the diesel home to use in the generator. (Which is nice because you're probably still spending a lot of money for generator fuel since the power is still off every other day.) We spent a half hour looking for some affordable jerry cans, but the only ones I could find cost more than the value of the gas. I ended up leaving the fuel with the gas station guard who helped translate for us with the mechanics. I hope he was able to re-sell it and make some decent money.
Step 10: Return home. If you did step 9, you'll probably wonder if they really attached the gas tank well. We haven't lost ours yet … but I'm still waiting for the other, er, shoe to drop.
So voila! Now you know if your new Land Cruiser is a diesel. And we've learned a valuable lesson about the accuracy and trustworthiness of official paperwork in Tanzany.